Post by AianLacruzel on Mar 9, 2017 16:27:38 GMT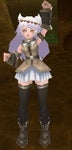 Whats ur dps like now that you are a high level adventurer? any bosses you can grind?
I can't determine my dps yet coz I'm using (a) new autoskill variable(/s) and I need to determine its/their trigger % 1st the same way I determined the trigger % of the previous gears I used. It's something I really wanna know so it's one of my goals.
Like I mentioned on the guide, Advents are a handicap class, meant to be used to enjoy Iruna on "Hard Mode" so don't expect astronomical values. XD
As for boss grinding (you meant farming right?), I don't do that sorta thing. I realized I don't like boss farming (cutscenes), even Ferzen, so lucky me. But as a reference, there was a time when I helped a recruit on her MQ boss, Moldus, I was surprised by how fast and easy it is. I also did Eternity Maze recently and the bosses were no problem too. I can say I can farm up to Belial. Haven't done Nyamerun yet. I really don't farm Bosses y'see; but if my guild really needs to do so, I can take on a limited Tanking role, a DD (damage dealer, more appropriate than DPS IMO)- preferred, or a simple Reviver on a party setup.
Unfortunately, I can't make a channel due to my phones' specs (limited RAM). I actually wanna make one. T.T If you're referring to boss killing (not farming, and with challenge), the last MQ boss I soloed was Agira Jama. I partied vs Amatis (it's very difficult solo coz u only get one chance coz of his "Hate Buster" lol). Had to switch to Revive Role coz everyone else keeps dying. Everyone in Divine Tower is soloable. I haven't tried the Sauros yet actually. The best I can do is screenies. Thanks to the broken EXP+1000% Boost, that's far from the biggest challenge actually.
Your build really has good survival. On a party you can do a Tanking role much better than me so make sure u make a Tank Set. Keep it up.
I will make an update after I confirm some new information 1st.