Post by mokie on Sept 26, 2015 2:22:11 GMT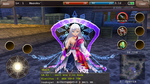 Oh, that is hard to read, but I think I get what you said.
I guess you have to decide exactly which build you are gonna be first, int>vit>dex or int>vit>dex.
Those two build is so different.
If you decide for crt, you need Ultimi.
Otherwise, dex, you might stick with Ira, but you should change the additional equipment. Spin shieldis useless for skill spammer.
My additional personal recommended suggestion(LOL). You might play int>vit>crt. Bite is better for than spamming tyrant edge if you need more servivability.
For gears,
Dim Sword (You have)
Ultimi (I prefer) or Ira (for autoskill, but -melee R% is bad )
Spin shield (For damage damage) or Huge cherry blossom (for more recovery)
Knight gauntlet (For more damage) or Myrica wristlet (For HP)
Crytal, I don't think sofys is good because magic is not super helpful. You do not have +autoskill% like enchanter has, so try to focus on atk and autoskill%. More atk means more Bite recovery, and more autoskill means more Bite.